Nutrition
The human brain functions optimally when the body does too. As a therapist and personally, I can attest to the profound healing effects of supportive nutrition and data-driven targeted interventions. Using a judgment-free, trauma-informed approach, I will work with you to get to the root cause of any hormonal, neurochemical, or biological imbalances. Through co-creating your health goals, we will implement changes in a realistic, non-diet way.
I'm Ready To Feel Better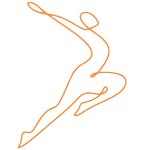 Specialties
While I work with a variety of goals and conditions, I am not a weight-loss dietician. My practice is weight-inclusive and I frequently treat clients with anxiety, depression, mental sluggishness, digestive disorders, blood sugar issues, and autoimmune conditions.
Steps to Begin
Together, we will ensure that your relationship with food is sustainable so you can enjoy intuitive eating in a style that honors and understands your body for years to come.

Step 1
Schedule a free 15-minute exploratory session where I can answer any questions you may have. This will give you the chance to decide if we would be a good fit.

Step 3
Our first official session! We'll discuss your form answers,  health history, any recent labs, and everything you've been through. We'll formulate goals and create a realistic plan that is at your comfort level.

Step 4
After our first session, I'll take time to connect the dots and make recommendations and suggestions to discuss in our follow-up session. Sometimes I order testing (blood, urine, or stool) to assess internal imbalances.
Future Steps
The length and frequency of follow-up sessions will be determined after our initial consultation to see what will work best for you.
"Until you can see everything in the world as your friend, your work is not done."

"Since I began working with Elena, I have made incredible improvements in my health and wellbeing. She has guided, educated, and empowered me with the most welcoming care.  She has collaborated with my doctors and supported my health with patience, positivity, and flexibility from every angle.  She is the partner you want to have on your journey to wellbeing."  – S.F.
"Elena is a compassionate, wise, and practical healer to work with. By creating a personalized program of care, she has helped me make so much progress with my health issues.  And I am also experiencing less anxiety.  I am beyond grateful for her holistic approach and attention to restoring, both my mental health and physical health."  -H.L.
"Before working with Elena, my anxiety was overwhelming, and I often felt alone or like I was the only one who would ever feel the way I did. Elena has helped me better understand myself and how to recognize the physical signs of my anxiety so I'm able to successfully work through it versus succumb to it." I had never worked with a therapist before and was nervous and unsure of what to expect, but from the first phone call I knew I had made the right decision." – A.H.